The VITRY hallmark, a seal of quality which reflects this high degree of excellence that we have worked towards since 1795
For over 200 years, several generations of highly qualified workers have taken great care to satisfy our brand's customers through the elegance and irreproachable quality of our French manufacturing.
VITRY is also a specialist in gilding fine gold onto stainless steel.
Authentic, unchangeable and always striving for perfection, Vitry is constantly innovating and has a range of over 25 filed or patented models.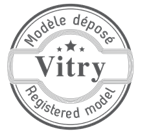 When accessories unite with beauty, approved by Vitry
VITRY has expanded its savoir-faire while also launching an additional cosmetic product line in partnership with large, well-known laboratories which support the creation and development of formulas: the hand care, nail care and foot care lines meet the current needs of consumers.
Vitry has established itself with « Nail Repair Care Pro Expert » as an essential product for any manicure, so that the women of the world can enjoy flawless hands.